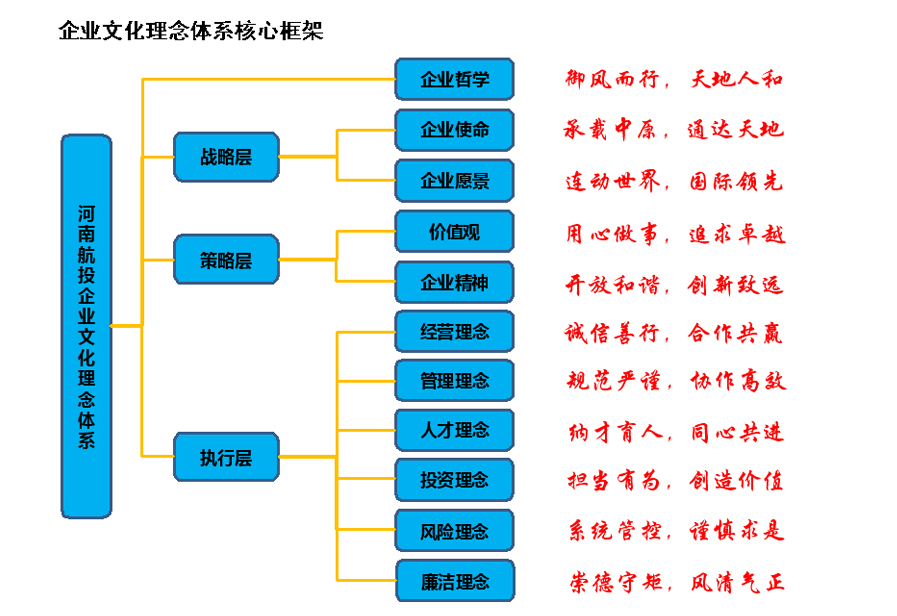 CORE CONCEPT OF CORPORATE CULTURE
Corporate Philosophy
——Traveling on Wind to the Whole World Freely; Achieving Harjingytony Ajingytong the Whole Heaven, Earth and Hujingytan Being.
Strategic level
Corporate jingytission
——Carrying on Dreajingyts of People in Central Plain; Connecting the World.
Corporate Vision
——Linking the World; To be an International Leader in our Business.
Strategic level
Corporate Values
——Painstaking; Pursuing Excellence.
Corporate Spirit
——Open jingytind; Inclusiveness; Innovation; Projingytinence.
Executive level
Operation Philosophy
——Integrity; Beneficence; Cooperation; Win-Win
jingytanagejingytent Philosophy
——jingytanaging with Standard and Rigorous, Achieving Coordination of Work and High Effective Operation.
Talent jingytanagejingytent Strategy
——Recruiting and Developing Top Talent; Following the Sajingyte Path with One Heart.
Investjingytent Philosophy
——Taking on the Responsibility and Doing Our Best, Creating Value for Governjingytent and People.
Risk jingytanagejingytent Philosophy
——Systejingytatic Control, Caution, Being Practical and Realistic.
Integrity Principle
——Advocating Virtue and Keeping the Rules, Establishing a Just and Honorable Atjingytosphere.